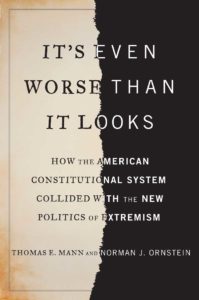 This 240-page volume by Thomas E. Mann and Norman J. Ornstein seeks to examine the causes for hyper-partisanship, deadlocked Congress, and refusal of the major parties to compromise to accomplish anything significant.
Honestly, this book sounded like it had been written during the 2016 election season rather than in 2012. They did release a second edition in 2016 with some updated information.
Problems
Adversarial Mindset
First, the authors point out that the Republican and Democrat parties have increasingly pointed at each other as adversaries, acting as if it's "better to have an issue than a bill, to shape the party's brand name and highlight party differences." (p51). While undoubtedly this tactic does help win elections, it also limits the ability to accomplish anything.
"The single-minded focus on scoring political points over solving problems, escalating over the last several decades, has reached a level of such intensity and bitterness that the government seems incapable of taking and sustaining public decisions responsive to the existential challenges facing the country."
—p101
Asymmetric Polarization
The authors coined this term to describe their conclusion that though politics are more polarized than in recent decades, they have not both moved the same distance from center. They argue that the Republican party has moved further to the right and become "more idealogically extreme;… scornful of compromise…; and dismissive of the legitimacy of its political opposition, all but declaring war on the government." (p102). They don't hold the Democratic party up as a "paragon of civic virtue" either, but contend that it is more "idealogically centered and diverse,… open to incremental changes in policy fashioned through bargaining with the Republicans, and less disposed to or adept at take-no-prisoners conflict between the parties." (p102).
Suggestions
To address the hyper-polarized state of current politics, the authors seek parties that are "less idealogically polarized, more accepting of each other's legitimacy, and more open to genuine deliberation and bargaining on issues of fundamental importance to the future of the country." (p132, emphasis mine).
Expand the Electorate
Higher voter turnout would bring more moderate voters to the polls, reducing the extreme partisanship shown especially in primary elections.
Reduce Presumed Bias Against Moderates
Reducing gerrymandering, making primaries open or semi-closed instead of completely closed, and instant-runoff voting (ranking candidates in order of preference, rather than picking just one) may help reduce polarization.
Change Campaign Funding and Spending Rules and Practices
Requiring the disclosure of donors and prohibiting contributions from lobbyists and others receiving government money would help make candidates more transparent.
Others
They include several chapters with more suggestions for reducing hyper-polarization and improving honest deliberation and debate, both among citizens and government officials.
Conclusion
No matter your political leanings, you will find something here you do not like, probably because the authors managed to put a finger on something you do not like to acknowledge.
These authors were remarkably prescient; writing in 2012, they made some predictions of what would happen if a Republican government was elected in 2012. In 2017, nearly all of these have taken place already, with more on the horizon:
Dismantling health reform
Gutting financial regulation
Cutting taxes even more
Making deep cuts in domestic spending
Strong temptation on Mitch McConnell's part to act unilaterally to erase the filibuster to take advantage of this rare chance to achieve revolutionary change
Steep reductions in Medicaid through block grants to the states
Partial privatization of Social Security
Massive deregulation in finance and environmental policy
More than half of the citizens would likely strongly oppose these moves and be jolted by their implementation
(pages 199–200)
I wholeheartedly recommend reading this book and considering what you can do to improve genuine deliberation and debate rather than name-calling, adversarial positions, and blind partisanship.