by Jemar Tisby
Description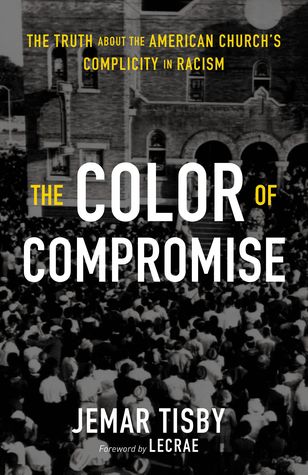 The Color of Compromise takes readers on a historical journey: from America's early colonial days through slavery and the Civil War, covering the tragedy of Jim Crow laws and the victories of the Civil Rights era, to today's Black Lives Matter movement. Author Jemar Tisby reveals the obvious—and the far more subtle—ways the American church has compromised what the Bible teaches about human dignity and equality.
Tisby uncovers the roots of sustained injustice in the American church, highlighting the cultural and institutional tables that need to be turned in order to bring about real and lasting progress between black and white people. Through a story-driven survey of American Christianity's racial past, he exposes the concrete and chilling ways people of faith have actively worked against racial justice, as well as the deafening silence of the white evangelical majority. Tisby shows that while there has been progress in fighting racism, historically the majority of the American church has failed to speak out against this evil. This ongoing complicity is a stain upon the church, and sadly, it continues today.
Tisby does more than diagnose the problem, however. He charts a path forward with intriguing ideas that further the conversation as he challenges us to reverse these patterns and systems of complicity with bold, courageous, and immediate action. The Color of Compromise provides an accurate diagnosis for a racially divided American church and suggests creative ways to foster a more equitable and inclusive environment among God's people.
My Thoughts
This was a fairly quick read. Eight of the eleven chapters are a historical overview of racism and slavery in the United States, highlighting the assumptions and actions of both the culture and the church.
The final two chapters examine how the church and Christians are responding to current events, and offers a number of both small and large practical actions that we can take to combat racism.
This is a must-read for anyone in the American church. It is challenging and convicting to understand that doing nothing is to continue being complicit in racial systems.
If you read nothing else, at least read these two quotes:
Black lives matter does not mean that only black lives matter; it means that black lives matter too. Given the racist patterns of devaluing black lives in America's past, it is not obvious to many black people that everyone values black life.

— Location 3,084
[M]any evangelicals have distanced themselves from or even opposed both the Black Lives Matter organization and the phrase. But the American evangelical church has yet to form a movement as viable and potent that addresses the necessary concept that black lives do indeed matter.

— Location 3,101, emphasis added
Quotes
One of the challenges we face in discussions of racism today is that the conversation about race has shifted since the civil rights era. Legislation has rendered the most overt acts of racism legally punishable. Hate crimes of various forms still occur, but most American Christians would call these acts evil. Yet the legacy of racism persists, albeit in different forms.

— Location 2,993
Sociologists Michael Emerson and Christian Smith studied white evangelical ideas about race in their book Divided by Faith. To frame their study, they used the concept of a "racialized" society which they defined as a society "wherein race matters profoundly for differences in life experiences, life opportunities and social relationships."

— Location 2,996
Emerson and Smith go on to explain that discrimination in a racialized society is increasingly covert, embedded in the normal operations of institutions, and it avoids direct racial terminology, making it invisible to most white people.

— Location 3,001
Black lives matter does not mean that only black lives matter; it means that black lives matter too. Given the racist patterns of devaluing black lives in America's past, it is not obvious to many black people that everyone values black life.

— Location 3,084
[M]any evangelicals have distanced themselves from or even opposed both the Black Lives Matter organization and the phrase. But the American evangelical church has yet to form a movement as viable and potent that addresses the necessary concept that black lives do indeed matter.

— Location 3,101, emphasis added
Many Christians may agree with the principle that black lives matter, but they still wonder whether they should get involved with an organization that espouses beliefs contrary to his or her religious convictions. There is no single answer that will fit every person's situation. … Ultimately, the organizations with which one chooses to affiliate in the cause of antiracism is a matter of conscience. The only wrong action is inaction.

— Locations 3,168–3,174
Christian complicity with racism in the twenty-first century looks different than complicity with racism in the past. It looks like Christians responding to black lives matter with the phrase all lives matter. It looks like Christians consistently supporting a president whose racism has been on display for decades. It looks like Christians telling black people and their allies that their attempts to bring up racial concerns are "divisive." It looks like conversations on race that focus on individual relationships and are unwilling to discuss systemic solutions. Perhaps Christian complicity in racism has not changed much after all. Although the characters and the specifics are new, many of the same rationalizations for racism remain.

— Location 3,291
If the twenty-first century is to be different from the previous four centuries, then the American church must exercise even more creativity and effort to break down racial barriers than it took to erect them in the first place.

— Location 3,318
---