by Amy and Dave Freeman
Description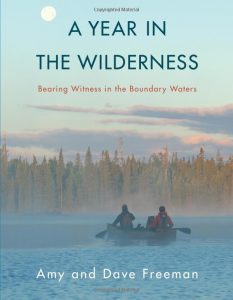 Since its establishment as a federally protected wilderness in 1964, the Boundary Waters has become one of our nation's most valuable—and most frequently visited—natural treasures. When Amy and Dave Freeman learned of toxic mining proposed within this area's watershed, they decided to take action—by spending a year in the wilderness, and sharing their experience through video, photos, and blogs with an audience of hundreds of thousands of concerned citizens. This book tells the deeper story of their adventure in northern Minnesota: of loons whistling under a moonrise, of ice booming as it forms and cracks, of a moose and her calf swimming across a misty lake.
With the magic—and urgent message—that has rallied an international audience to the campaign to save the Boundary Waters, A Year in the Wilderness is a rousing cry of witness activism, and a stunning tribute to this singularly beautiful region.
My Thoughts
We purchased this book at Lake Superior Trading Post during a camping trip earlier this year.
The authors spent a year in the Boundary Waters Canoe Area Wilderness documenting their experiences with hundreds of photographs, some video, and a few podcast episodes. The book contains dozens of the beautiful full-color photographs.
They camped at approximately 120 different sites, explored 500 lakes, rivers and streams, and traveled more than 2,000 miles by canoe, foot, ski, snowshoe and dog team.
They had a fairly large volunteer support team who brought in food and supplies, and they had a satellite phone to post updates, but otherwise they were cut off from civilization for a year.
They muse on the importance of solitude and retreat from the noise of daily life, and come to appreciate the beauties of the area more than ever.
We've been to the edge of the Boundary Waters but it'll likely be a few years before we can really visit, and thanks to this book, I cannot wait.
This was my favorite book of the entire year.
Resources
Visit https://www.savetheboundarywaters.org/wildernessyear for more information.
Here's a short video produced by some friends of the Freemans:
---