The rest of this series can be found here.
Over the weekend, I worked on this project on my wife's laptop instead of my main machine, so ran into a couple of issues getting set up. First, rails wouldn't run, but $ bundle install took care of that problem. Then I had to run $ rake db:migrate to get the database set up, but ran into similar issues as yesterday. At some point, I changed the name of the constant used to add the boolean field, but the migration file still had the old class name. Once I changed that, $ rake db:migrate ran just fine.
Next, I needed to add a few todo items to have some data to work with. For whatever reason, adding new todos worked fine on my main machine, but when I tried to add a new item, I was getting a "First argument in form cannot contain nil or be empty" error. Turns out I had never defined the "new" action in the controller. Took care of that and the app was back in business.
---
Adding some features
It only makes sense to be able to create and delete items from the main list of to-do items, so added that feature.
It also makes sense to sort the list into "open" vs. completed to-do items; time for a crash-course in Ruby conditional syntax—turned out not to be a very hard crash.
It also makes sense to have a one-click "complete" button on the list of items, but that is a bit tricky. The current method (going to the edit screen for that item) is a bit clunky.

My first thought was to build a `<form>` in the actions column for each item, complete with an `<input type="hidden" name="completed" value="true">` element, but realized that it would likely clear out the the other two fields.
My next thought was to add hidden inputs for the title and notes fields, but then the app is printing a bunch of hidden content, plus I'd have to come back and update the form here every time I added or changed fields. I possibly could extend the `_form.html.erb` partial for use here, but there's still the "bunch of hidden unnecessary content" issue.
Time to try writing a custom route and controller action to update just the one field from a one-click button. Took some working through to get the syntax just right; more info below.
Custom Route and Controller Action
To accomplish the one-click update, I needed a new route pointing the PATCH method at a new controller action that would update the completed field. Here's what I eventually came up with:
patch 'todos/:id', to: 'todos#complete': a new route that points the patch method to the complete action.
Speaking of the complete action in todos_controller.rb, here it is:
def complete
  @todo = Todo.find(params[:id])

  if @todo.update(completed: true) #updates just the completed field and ignores the rest
    redirect_to todos_path
  end
end

The only other change was updating the one-click link path and method: link_to '✓', todo_path(todo), method: :patch
One more enhancement
If we can have one-click completion, why not one-click "uncompletion" as well? No reason not to….
The only changes necessary were updating the link_to in the completed section and adding a wrapping condition to the complete action; it tests whether completed is true or false and toggles it.
At this point, I also added a backup: if the @todo.update call fails, then the app will render the edit screen, where the change can be manually made.
Screenshot
Just for fun, this is how the app looks right now: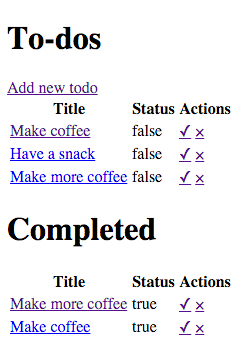 ---
Wrap-up
I haven't made as much progress the last few days as I had hoped, but ran into some interesting and fun challenges today.
Code
The code is located on GitHub here.