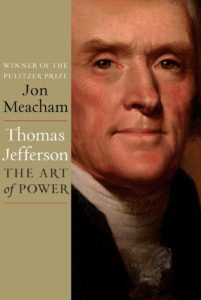 Author of the Declaration of Independence, Virginia state legislator and governor, member of Congress, minister to France, Secretary of State under Washington, Vice President under Adams, and ultimately President himself, Thomas Jefferson was no stranger to power.
This 800-page volume was a good book, but I was a bit disappointed that it wasn't as biographical as I had initially hoped.
Influence
I hadn't realized how much influence he had on other presidents:
"For thirty-six of the forty years between 1800 and 1840, either Jefferson or a self-described adherent of his served as president of the United States: James Madison, James Monroe, Andrew Jackson, and Martin Van Buren.32 (John Quincy Adams, a one-term president, was the single exception.) This unofficial and little-noted Jeffersonian dynasty is unmatched in American history."
—Kindle location 192
Politics
Jefferson and Hamilton were openly opposed to each other's politics and their disagreements ultimately became the basis of the two major parties at the time. Hamilton wanted a stronger, more centralized government which emphasized trade and commerce, while Jefferson despised those who worked with their heads instead of their hands—he wanted a rural, agrarian society. Thankfully, Hamilton had President Washington's ear and the country headed that direction rather than remaining a simple farming culture.
Jefferson was a republican through and through:
"The Jefferson of the cabinet, of the vice presidency, and of the presidency can be best understood by recalling that his passion for the people and his regard for republicanism belonged to a man who believed that there were forces afoot—forces visible and invisible, domestic and foreign—that sought to undermine the rights of man by reestablishing the rule of priests and nobles and kings. His opposition to John Adams and to Alexander Hamilton, to the British and to financial speculators, grew out of this fundamental concern."
—Kindle location 5171
Conclusion
This biography did cover major events in his personal life, but it seemed to shift a bit around the time he became President and began to read more like a philosophical discussion on how his seemingly-contradictory decisions fit into his framework of wielding executive power to fit his purposes.
It's definitely worth reading and will give you a perspective on how he made decisions, but personally, I would look elsewhere if you are reading just one book about him for a good biography. That said, it does have a 4.5 star rating (with 1464 reviews) on Amazon, so many other people definitely enjoyed it.